penelope need some lovin' so the second journey was to the junie moon shop, home to all things blythe!
lets just say it took longer than it needed to and i was sticky and sweaty by the time we found it but oh man i could live in there! now i know many of you are not familiar with the blythe quiet phenomenon so here is a link
blythe her-story
now i'm still new to the world of blythe (i've had her for two years almost) but i adore her and my girl is named penelope and she is an asian butterfly model with no mods yet but i will be coloring the lips and matting out her skin.
anyway i wanted to go to junie moon because it's the place for blythes and it was!!! wall to wall stuff from clothes, dolls to notebooks and dvds! it was cute but like many places no photos inside! i did get a pic of the outside!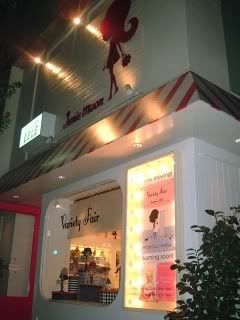 i picked up a few things like some red boots, sunglasses, disco ball(oh yeah too cute!) and a few other things but i'll be back for more!